What is Everybody Wins! Vermont?
By creating mentoring relationships that foster a love of reading and language, Everybody Wins! Vermont increases children's prospects for success and engages a diverse range of volunteers in their community schools.
Do YOU have an hour a week to invest in the life of a local student? Click here

Everybody Wins! Vermont Announces New Director

The board of directors of Everybody Wins! Vermont, a statewide mentoring and literacy organization, welcomes a new executive director, Beth Wallace. (Read More)

Position Openings:
EW! VT Seeks School Coordinators:
We currently have school coordinator openings at the Sustainability Academy at Lawrence Barnes School in Burlington, Thatcher Brook School in Waterbury and Salisbury Community School.The full description and application information can be viewed here.

EW! VT Seeks Mentoring Coordinator:
Be a Mentoring Coordinator for Barre Youth Mentoring Program and Everybody Wins! Vermont at Barre City Elementary and Middle School. The full description and application information can be viewed here.

The Program is Simple
Through our Power Breakfast and Power Lunch programs, adult volunteers are paired with students at local elementary schools to promote reading for pleasure, to build the children's self-confidence and enhance their self-esteem, and to serve as caring role models. The pairs meet weekly to share books and develop lasting relationships.
Since opening our first two sites in October 2000, EW! VT has grown to become Vermont's largest mentoring organization. In the 2011-12 school year, we served 680 students at 22 schools! In 2012-13, we are running Power Lunch programs at 23 schools.
We are a literacy-based mentoring program
Why Literacy? The more children read, the better readers they become; the better readers they become, the more they want to read. Research shows that children who read well tend to achieve more academically, enjoy school more, and stay in school. EW! VT is not a tutoring program. Rather, our approach is to help children develop and practice literacy skills by helping them experience the pleasure of reading good books in a one-to-one, noncompetitive setting.
Why Mentoring? Our goal of helping children read more and better is inextricably linked to building strong mentoring relationships. Studies indicate that children who have mentors tend to do better in school; stay in school; have a better sense of their place and importance as community members; have better relationships at home; have higher self-esteem; avoid risky behaviors; and become volunteers as adults.
The Crisis
One of the most critical problems facing our country today is illiteracy. Our national standard of living and the ability for our country to successfully compete in a global economy are at stake if American young people are unable to read. Consider the following statistics:
The effects on the American workforce are staggering, with American businesses spending more than $200 billion annually to teach remedial reading and math skills to their employees.

More than one in four Vermont kindergarten students are not ready to participate successfully in school.
Our Success
Because of EW! VT, children are better readers and are more enthusiastic about school, community members are more engaged in their local schools, and schools are better equipped to help children succeed. Feedback from participating students, mentors, teachers, and parents on annual year-end surveys affirm that the program works.

In the 2012-13 school year, 65% of teachers reported that students showed greater enthusiasm for reading and 100% of teachers would like their student(s) to read with an EW! VT mentor again. 85% said they read better, because of their mentors and 72% said they read more often. Gains in self-confidence among students were observed by 70% of teachers and 67% of mentors.
President: Beth Fastiggi, FairPoint Communications
Vice President: Laura Schutz, IBM
Secretary: Anne D'Aveni, Mascoma Savings Bank
Treasurer: Christopher Halnon, Merchants Bank
Members:
Joe Doud, Vermont Lake Monsters
Stanley Fishkin
Leah Hollenberger, Copley Health Systems
Amit Lodha, BioTek Instruments, Inc.
Anne McGrath, Verizon
Brian Ricca, Ed D., Montpelier School District
José Suarez, Mascoma Bank
James Jeffords, Honorary Chair
Executive Director, Everybody Wins! Vermont:
Beth Wallace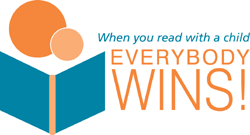 Everybody Wins! Vermont | 25 School Street, P.O. Box 34 | Montpelier, VT 05601
Phone: (802) 229-BOOK (2665) | FAX: (802) 229-1010
info@ewvt.org
Unless otherwise noted, all photos on this site copyright:Russ Hurlburt,
Website: RussHurlburtPhotography.com