Who's Who at EW! VT?
Everybody Wins! Vermont consists of onsite school coordinators at each school location as well as a main office centrally located in Montpelier. Our central office space is generously donated by FairPoint Communications.
Find Us at:
Everybody Wins! Vermont
P.O. Box 34
25 School Street
Montpelier, VT 05601
Phone: (802) 229-BOOK (2665)
Fax: (802) 229-1010
Central Office Staff
Amy Cunningham, Executive Director
Holly Lane, Grants Coordinator
Kim Smith, Business Manager
Ron Wild, Program Assistant
Onsite School Coordinators
Jen Bailey, Head Coordinator, White River School
Merrick Grutchfield, Twinfield Union School
Tricia Huebner, Rutland Intermediate School
Harmony Kahn, Waitsfield Elementary School
Angela Cobrin Landis, Mary Hogan School
Susannah Magee, Integrated Arts Academy at H.O. Wheeler

Alison Novak , Sustainability Academy at Lawrence Barnes

Lorna Kay Peal, J.J. Flynn Elementary School & J.F.K. Elementary School
Jessica Sayah, Barre City Elementary School
Abi Sessions, Salisbury Community School
Arlene Steins, White River School (assistant)
Suzanne Stimik-Mason, Edmunds Elementary School
Julie Thompson, Shoreham Elementary School
Kathy Twombly, Shelburne Community School
Patty Valentine, Union Elementary School
Diane Villemaire, Thatcher Brook Primary School
Hazel Wood, Neshobe Elementary School
Debra Zimmerman, Barton Graded School
For a complete listing of school locations, including those run by the Upper Valley Business and Education Partnership, click here.
Board of Directors
President: Beth Fastiggi, FairPoint Communications
Vice President: Susan Whalen, TD Bank
Secretary: Anne D'Aveni, Mascoma Savings Bank
Treasurer: Christopher Halnon, Merchants Bank
Directors:
John Dilts
Stanley Fishkin
Amit Lodha, BioTek Instruments, Inc.
Ann McGrath, Verizon
Ellen Miles
Laura Schutz, IBM
Honorary Chair: James Jeffords, United States Senate
Executive Director, Everybody Wins! Vermont:
Amy Cunningham
Photos: All Photos on this site copyright:
Russ Hurlburt, Website: RussHurlburtPhotography.com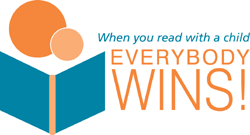 Everybody Wins! Vermont | 25 School Street, P.O. Box 34 | Montpelier, VT 05601
Phone: (802) 229-BOOK (2665) | FAX: (802) 229-1010
info@ewvt.org