Become A Mentor
Would you like to make the difference in the life of a child? Consider becoming a reading mentor! Just fill out the application form here, OR download it as either Microsoft Word format or a PDF.
Being A Mentor
As a reading mentor you will be matched with one student at the school of your choice (Power Breakfast program also available at selected schools). Each week you will spend one lunch hour reading with your student while you both eat lunch. You provide the inspiration to help a child develop a love of reading that will last a lifetime, and EW! VT provides the books and support to all mentors!
Reading Mentor Job Description
Here's what reading mentors do:
Build relationships by talking about shared interests, by reading aloud with their students, and by being positive and consistent


Make a commitment to volunteer for one school year; mentors are encouraged to continue reading with the same child for more than one year if possible


Receive ongoing support from EW! VT


Provide structure for the Power Lunch by helping their students select reading materials, keeping their students engaged, and encouraging questioning and conversation


Stay with the student during each session and escort them to their next activity after each Power Lunch
Become a Mentor
To become a mentor, you must complete an application form either online, or you can download it in Microsoft Word format or a PDF. Please complete this form and fax it to (802) 229-1010 or mail it to:
Everybody Wins! Vermont
P.O. Box 34
Montpelier, VT 05601
If you would like to request a copy of the application by mail, fax or e-mail, please e-mail or call (802) 229-2665.
For a list of program locations, click here.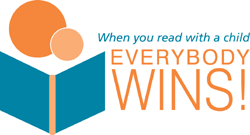 Everybody Wins! Vermont | 25 School Street, P.O. Box 34 | Montpelier, VT 05601
Phone: (802) 229-BOOK (2665) | FAX: (802) 229-1010
info@ewvt.org