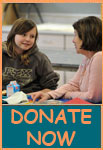 EW! Vermont's Programs
The EW! Vermont program consists of four main elements designed to increase literacy skills and to cultivate a lifelong love of reading and learning in kindergarten through 6th-graders.
Power Lunch
The foundation of Everybody Wins! is the Power Lunch, which pairs elementary school children with adult reading mentors. Reading mentors spend one hour a week at schools with their student partners. Each week, the pairs read from good books and share conversations about books. The Power Lunch provides children with positive role models and fosters a love of reading and learning. Want to become a mentor? Click here for more information.


Family Literacy Events
Our family events highlight literature and literacy. Programs feature experts who work with parents and reading mentors to develop skills in reading aloud to children. They also provide an opportunity for parents and guardians to meet their child(ren)'s reading mentor(s).


Gift Books
To ensure students have books to call their own, EW! VT distributes high-quality children's books to participating students two times each school year. Gift books are often donated by individuals, corporations, bookstores, and publishers.


Summer Pen Pals
Student and mentor reading pairs write to each other during school vacations, allowing pairs to remain in touch while EW! VT is on hiatus.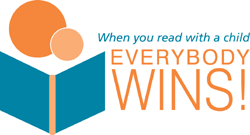 Everybody Wins! Vermont | 25 School Street, P.O. Box 34 | Montpelier, VT 05601
Phone: (802) 229-BOOK (2665) | FAX: (802) 229-1010
info@ewvt.org